Auto & Hotel Package
Compact Car Size Included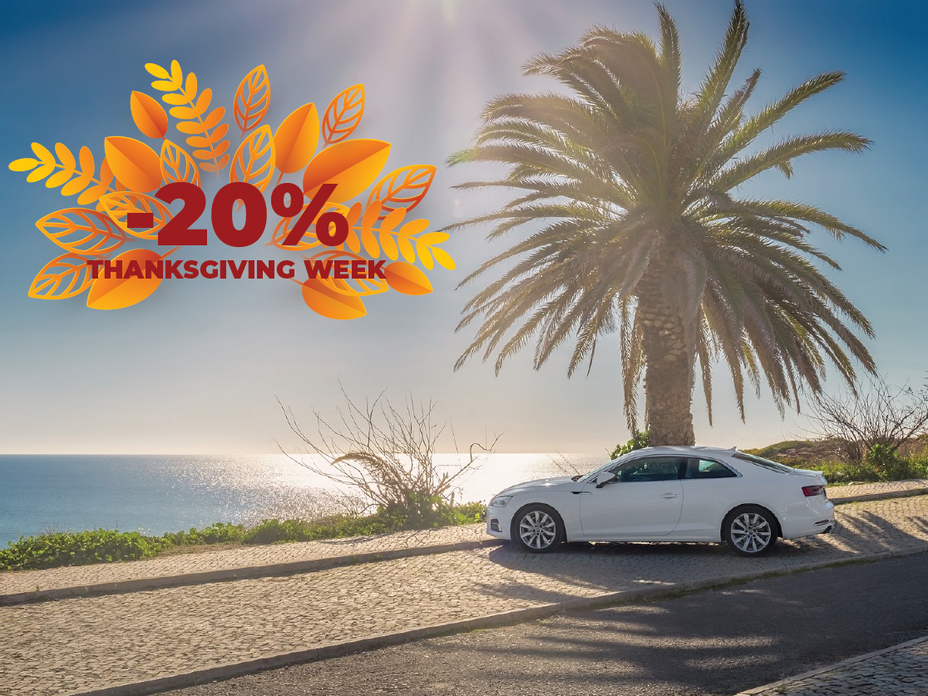 Discount offer: Thanksgiving Week Sale
Booking Dates: November 21 to 28, 2021.
Travel Dates: November 21st 2021 to October 31st 2022.
Room Class: Apply for Rooms & selected Suites
The offer includes:
YOUR PACKAGE INCLUDES:
Accommodation in selected Room.
Daily TEN Car® rental Compact Size with unlimited mileage
Transportation within the SJD Airport to our check-in counter and/from terminal areas.
Minimum 2 nights stay required.
Welcome Beverage upon arrival.
Welcome Amenity in room.
Complimentary WIFI in room and public areas.
Complimentary Parking and Valet Parking. Gratuities at discretion.
Our exclusive TEN car® "No Worries" protection plan. See our terms & conditions.
All Taxes, Service Charge Fee, Car insurances, Car taxes ALL INCLUDED IN RATE.
Highlights
Step 1 select your desirable suite. Step 2 then let us know your flight arrival, our Ten Car® representative will pick you up at the Airport. ALL TAXES & CAR INSURANCES ARE INCLUDED.
Terms and conditions
• 2 nights is the minimum required for this package.
• Welcome amenity will be provided immediate after your arrival in your room.
• Free WIFI is valid for up to 5 devices in same room. Available in room and public areas.
• After booking you will be contacted by our reservation specialist to inquiry about your flight arrival details and schedule your pickup airport.
• Car rental apply for compact car size and drop on/drop off must be at San Jose del Cabo (SJD) Airport
• 6% VATAX + 3% Lodging Tax + applicable service charge+ Car taxes + Car insurances are INCLUDED IN RATE QUOTED.
• At the moment to sign the rental contract, the customer will be retained for 200.00 us in guarantee in case of any additional charge. The hold will be returned to the customer's credit card when the car has been delivered in time and there is no additional charge for fuel, overtime, breakdowns etc.
• TEN CAR® RENTAL is committed to offering its customers the best and cleanest cars in the industry ensuring a valuable rental experience. All our vehicles are classified as SMOKE FREE. A charge of $ 100.00 us will be applied to vehicles returned with evidence or smell residues of cigarette.
• Drivers between the ages of 21 – 24 years will pay a Minor Driver fee of $7.90 USD / day.
• All previous coverage is included in the "No Worries" Protection Plan and applies only if the client respects all clauses of the rental contract, which means that any contract violation can annul the protection, with all responsibility of any incident relapsing to the client.
• Damage to tires and windows are included in any coverage and will be considered only if the office of TEN Car Rental evaluates the damages and determines that no negligence on behalf of the driver of the vehicle is found.
• Charges for towing, arrest, detention and traffic fines in case of accident.
• TEN Car Rental is not liable for these charges; these charges shall be made directly to the credit card the client has given as security deposit. The client may request a summary of these charges from the TEN Car Rental representative who assisted during the accident.
• If additional guests not paying package rate stay in the same room and exceed car rental capacities, full public rate will be charged to your bill for upgrades or specific vehicles.
TEN Car® Rental Requirements:
• Valid Driver License.
• Official photo I.D. with signature; Passport (if foreigner).
• Credit Card with sufficient available balance to guarantee deposit for the rental of the vehicle.
• NOTE: The aforementioned documents must be in the name of the person who will be the signatory on the rental contract.
• Must be at least 25 years of age. For drivers between the ages of 21-24 years, additional charges will apply.
• Additional drivers, whether Mexican or foreign, shall present Official photo I.D. with signature as well as valid driver license.