Hacienda del Mar Los Cabos Receives an Intenational Award by RCI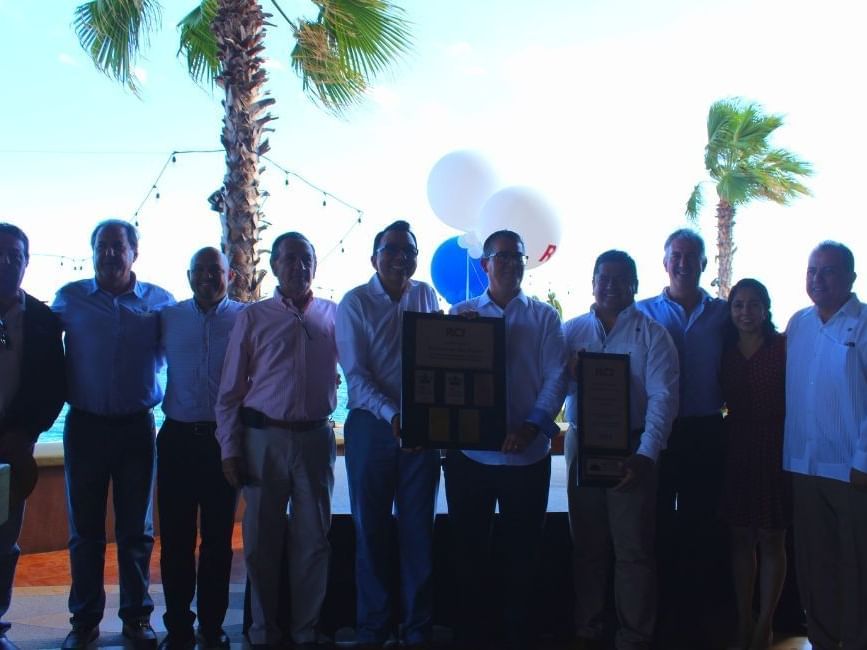 For the ninth consecutive year, Hacienda del Mar Los Cabos is being recognized for its standards of excellence and is receiving the "Excellence in Service" Award granted by the vacation exchange company, RCI (Resort Condominiums International). This award honors those resorts that manage to exceed the expectations regarding hospitality, service, amenities, maintenance, housekeeping, cleanliness and facilities. Nowadays, only 5% of the vacation clubs affiliated to RCI have reached these quality and client service standards month after month.
This recognition was granted by Mr. Juan Ignacio Rodriguez, current Vice President of Business Development of RCI Mexico.
In addition, Mr. Miguel Angel Loya –Director of Business Development of RCI Pacific– granted a second recognition called the Gold Crown Resort which is awarded to those resorts that manage to exceed the different service and quality fields. We have received this award for the last 15 years consecutively.
The great value that both awards possess is the fact that it is the same RCI members that visit Hacienda del Mar Los Cabos those who grade the various factors mentioned above through a survey they answer after each stay, thus contributing to these awards with more credibility and trust.
Likewise, Mr. Ernesto de la Parra, Director of Operations at Hacienda del Mar, congratulated all the property staff for the hard work they provide day after day in order to offer their guests the ultimate vacation experience, allowing the company to be recognized as extraordinary, standing out for the magnificent work carried out by the different departments, such as the reception, reservations, housekeeping, maintinence, bell boys, activities and timeshare sales during 2017.